Clients & Experience
At Blue Sky Marketing, we want to be an integrated part of our client's marketing programs. Our clients are our friends and we share some of their stories below. If you want to hear it from them, watch a testimonial. If you want to join them, please contact us.
Johnson Development Corp.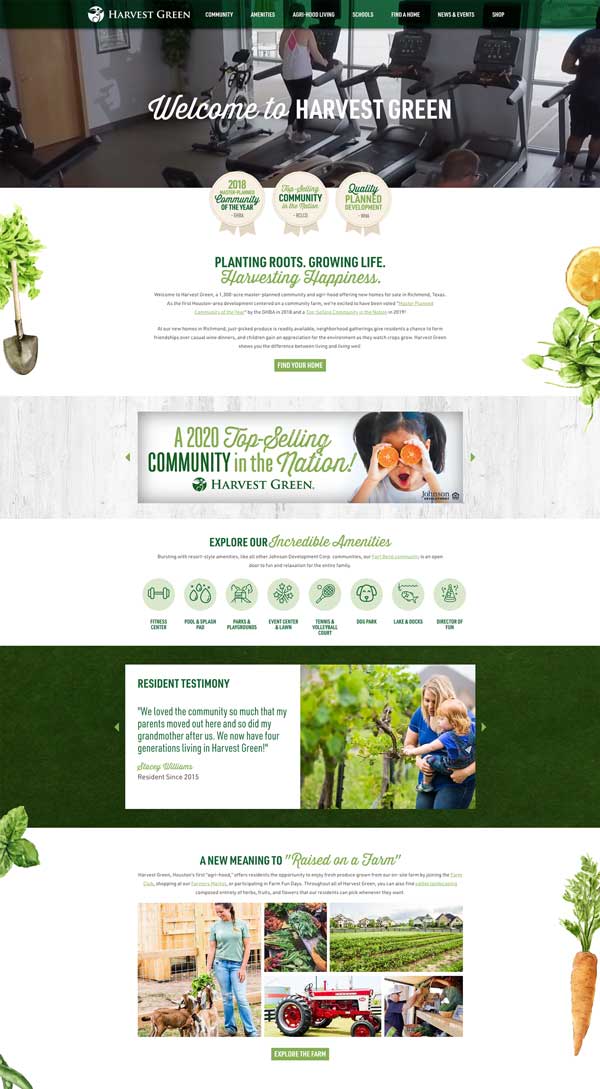 It all started with Imperial in Sugar Land. From that one development, the relationship between Johnson Development Corp. and Blue Sky Marketing has grown to include most of their Houston-area communities (Sienna, Riverstone, Edgewater, Grand Central Park, Tuscan Lakes, Woodforest, Cross Creek Ranch, Harvest Green, Jubilee), as well as their DFW communities (Trinity Falls and Viridian).
With the Johnson Development team, Blue Sky Marketing focuses on providing digital marketing strategy and proactive counsel on new technologies, as well as the back-end technology for their portfolio of residential real estate and master-planned community websites.
Blue Sky Marketing has received 3 AMA Crystal Awards for the work with the Johnson Development communities, along with 2 AAF ADDYs and most recently the 2021 NAHB GOLD Award for Best Community Website for Harvest Green.
Kurk Homes Custom Builder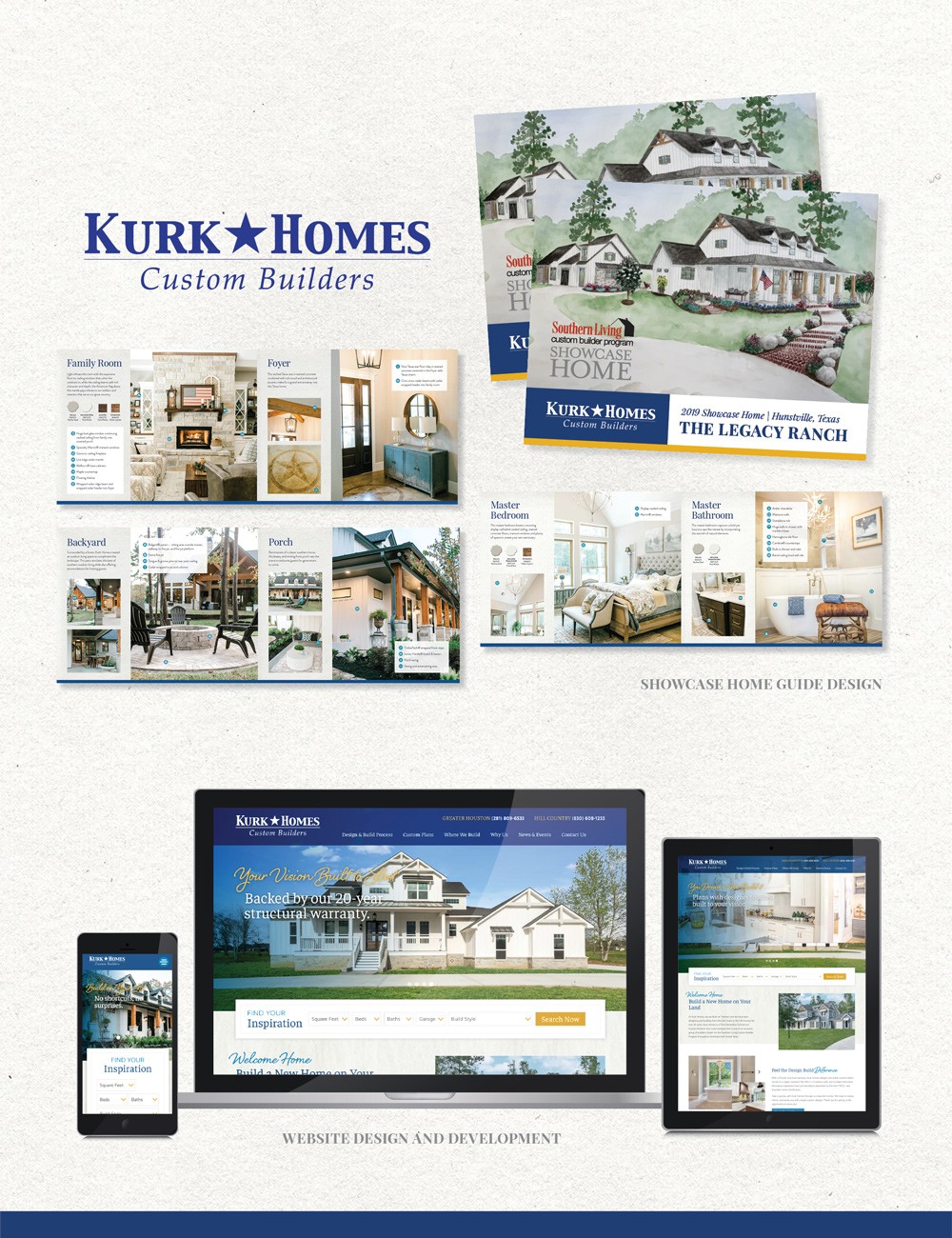 The only 3rd Generation Custom Building Company with a 20-year structural warranty, award-winning Kurk Homes has been designing and building dream homes in and around Greater Houston and the Texas Hill Country for nearly 30 years. As a Southern Living Custom Builder with an in-house design team, Kurk Homes can create a full set of plans from your vision.
Our marketing support for Kurk Homes includes creative work, website development and management, marketing automation, and digital marketing including PPC programs, SEO, and social media ads.
Caldwell Companies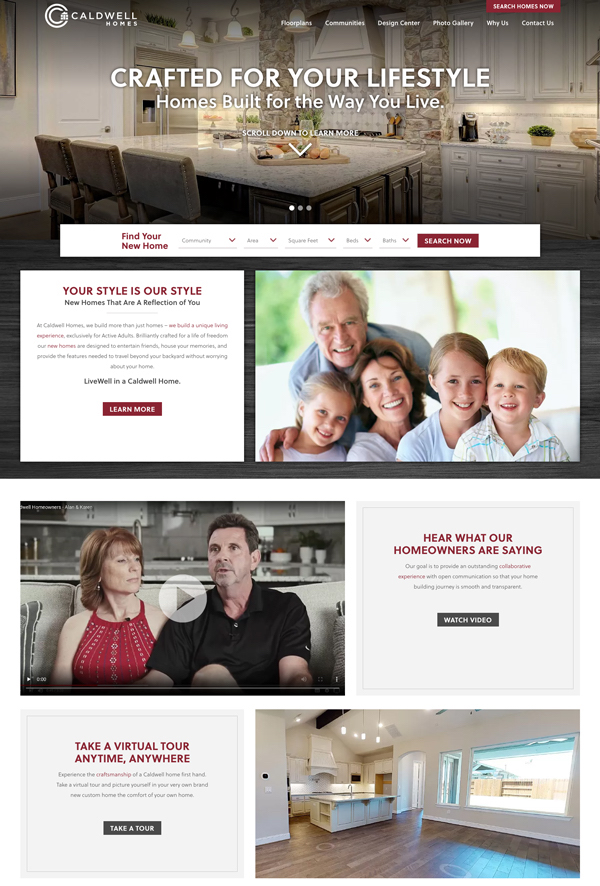 Caldwell Companies is one of the premier real estate investment, development, building, and service firms in Texas. Their focus is on creating unique, extraordinary close-knit communities where people thrive, families grow closer, and cherished memories are made.

Our marketing support for Caldwell includes creative work, website development and management, and digital marketing for their homebuilding division, Caldwell Homes, for their master-planned communities Mission Ranch and Copper Bend, as well as The Work Well, their innovative new executive suite and co-working community.
Value Power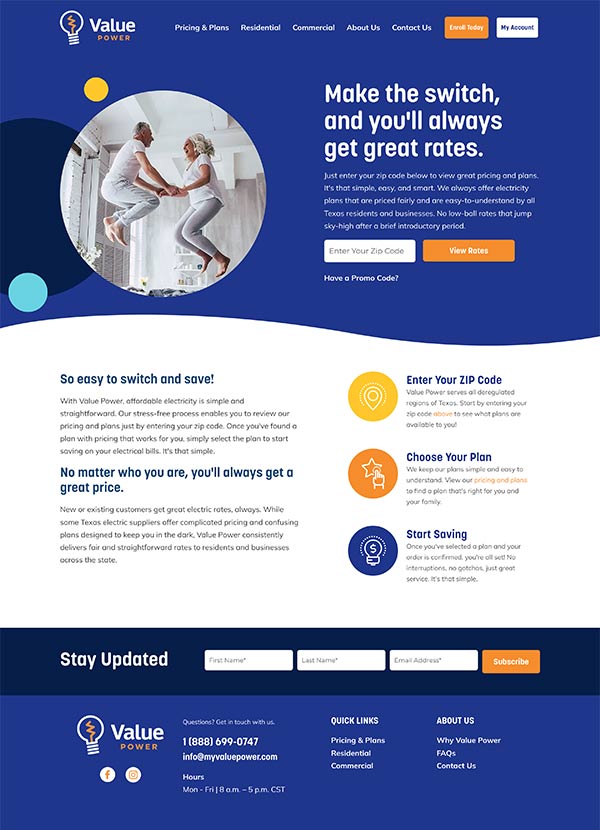 Value Power is a Texas electric supplier providing transparent, low-cost, and no gimmicks electricity plans as well as high-quality customer service. Their award-winning team has been serving over 500,000 residential and commercial customers since the beginning of deregulation and Power to Choose in Texas in 2003. Value Power recognizes the importance of customer satisfaction, and this customer-first approach is practiced throughout the company.
The Blue Sky Marketing team was engaged to build their brand and launch in the highly competitive Texas market. Our services for Value Power have included corporate identity and branding, website design and development, SEO, social ads, and PPC campaigns.
Elements at Viridian

Elements at Viridian is a vibrant 55 community in the Dallas-Fort Worth metroplex located in Arlington, TX. This 141-acre neighborhood features beautiful courtyard- and single-family homes in a variety of lot sizes, with homes designed by some of the finest builders in the DFW area. The crown jewel of the community is the Magnolia Lifestyle Center, which opened in 2020 and won TAB Best Community Amenity of the Year in 2021.
Elements at Viridian engaged Blue Sky Marketing to help with their launch in 2018. The main challenge was launching a new home community without information from the builders about their product offering. Despite this constraint, we kept our list informed and engaged by delivering lifestyle details to nurture and produce builder leads from the subscriber list. Our drip campaign surpasses all the goals and exceeded expectations by doubling the industry average open and click rates. Most importantly, half of the initial sales were attributed to online sources which received these emails.
Since then, Blue Sky Marketing has provided website maintenance and SEO, digital advertising, marketing automation, and email marketing services.
Viridian: Master Planned Community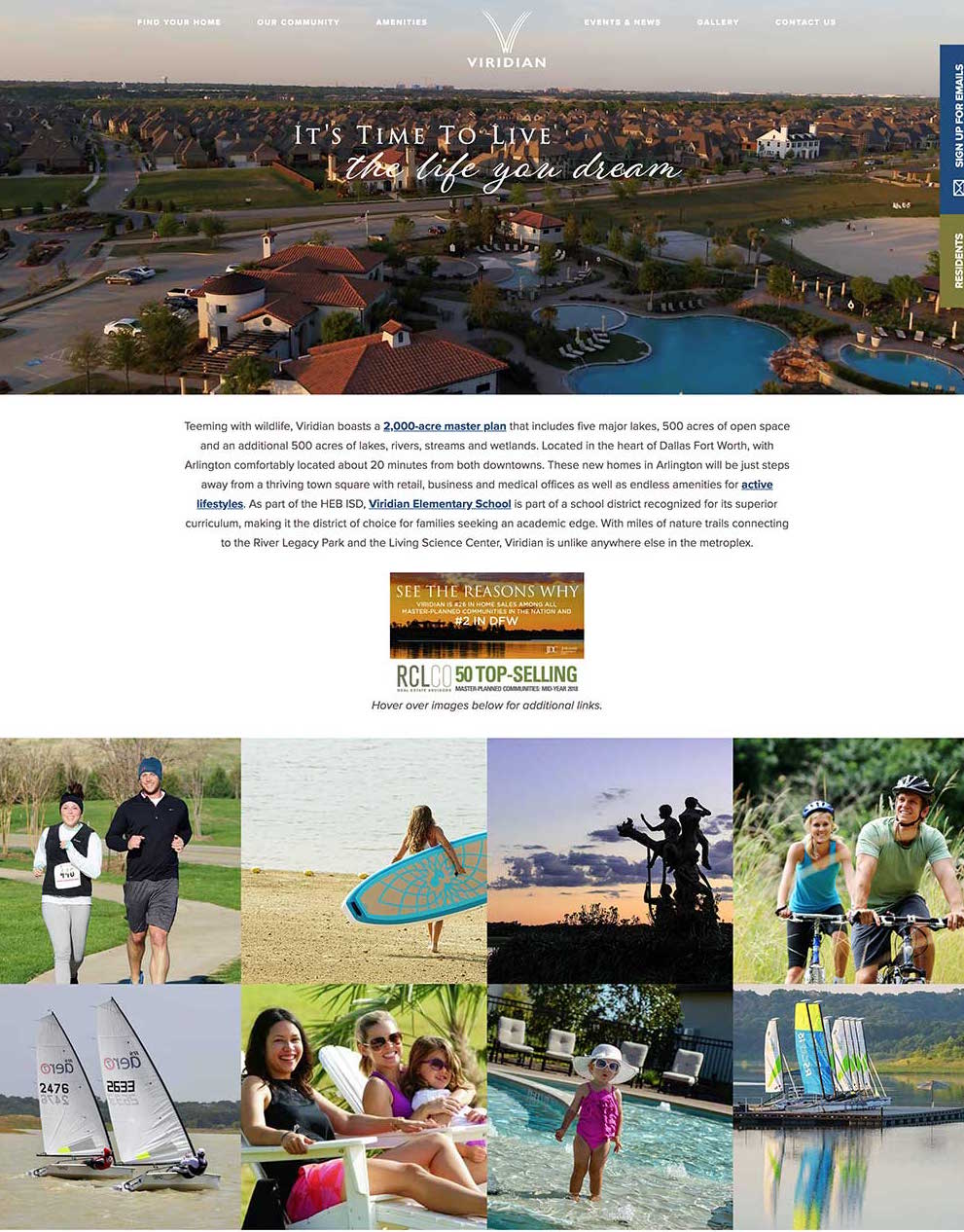 Viridian is a 2,000-acre master planned community in Arlington within the Dallas/Fort Worth Metroplex. This one-of-a-kind development incorporates unique amenities like its own sailing center and has won many accolades, most recently a 2021 TAB Star Award for Best Community Amenity from the Texas Builders Association.
We were asked to revamp Viridian's entire website in order to improve user experience and increase home buyer leads. This resulted in triple the website traffic compared to the previous year. Beyond website design, we provide Viridian with full-service digital marketing including strategy, media planning, creation and implementation of social media, email, advertising, and SEO campaigns.
Viridian is part of Johnson Development Corp., for which we provide digital marketing services for 14 of their other community developments. As a whole, Johnson Development Corp. has more top-selling communities than any other developer in the nation.
Danner's Security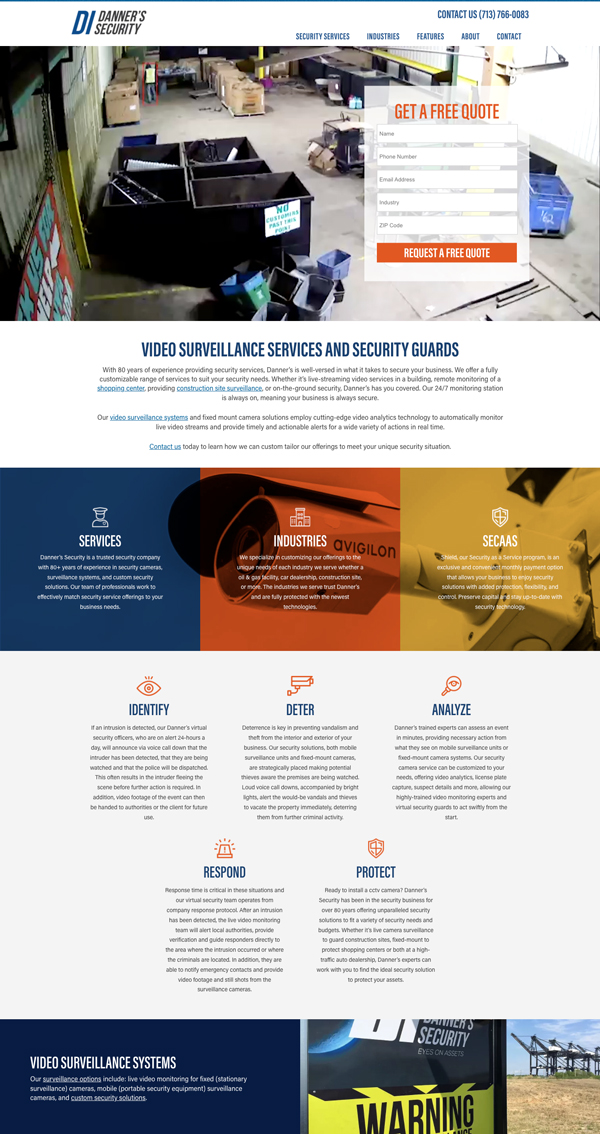 Danner's Security is a Houston-based security technology and surveillance company that has been in business for over 80 years. It all started with Danner's team reaching out to create an online B2B strategic marketing plan in 2015. Since then, Blue Sky Marketing helps Danner's with their marketing strategy, pay-per-click programs, display ads, video ads, SEO management, and monthly email campaigns to target industries and existing customers.
The Signorelli Company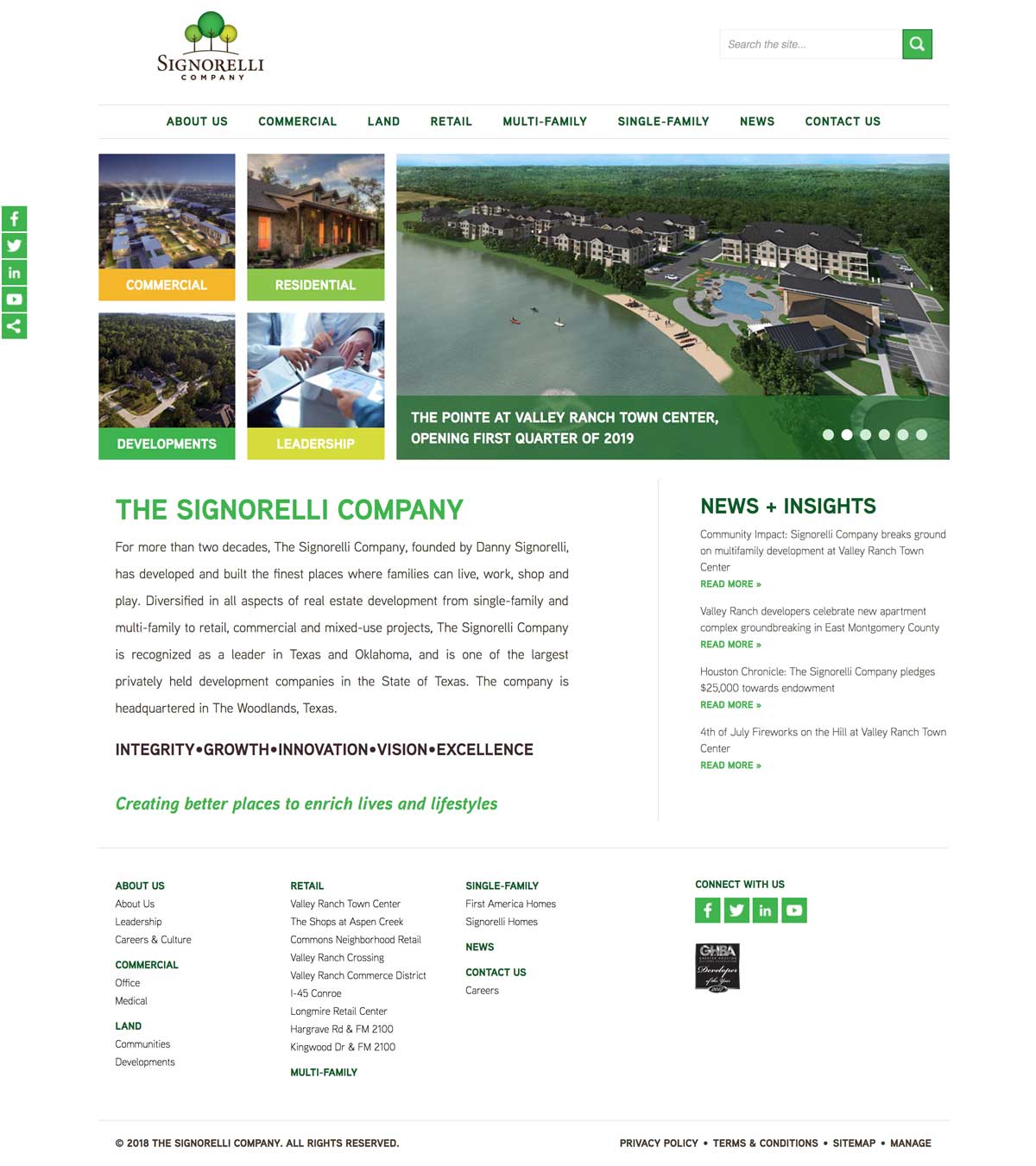 Diversified in all aspects of real estate, from single-family and multi-family to retail, commercial and mixed-use projects, The Signorelli Company is one of the largest privately held development companies in the state of Texas. Valley Ranch, The Commons of Lake Houston, First America Homes, Valley Ranch Town Center, and Vivacity Medical District are just a few of their ventures.
With the Signorelli team, Blue Sky Marketing focuses on providing digital marketing strategy and proactive counsel on new technologies, as well as websites and back-end technology.
Newmark Homes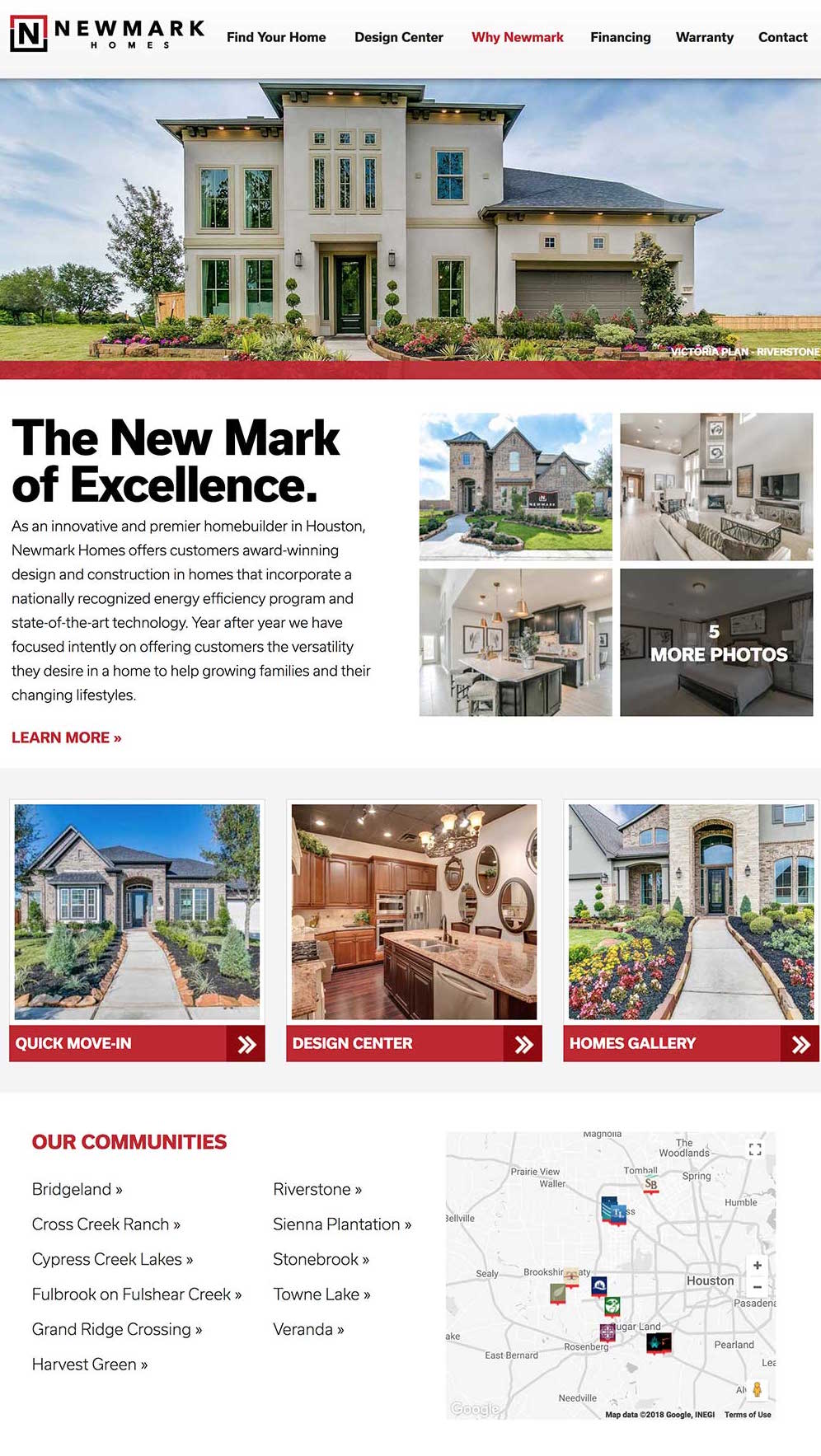 Newmark Homes is a custom and production homebuilder active throughout the Greater Houston area. Newmark reached out to Blue Sky Marketing to create an online strategic marketing plan.
Our marketing support includes evaluation and implementation of their online marketing including pay-per-click programs, display ads, SEO, and social media ads. We also worked with them to create a new website. Drawing on our experience in homebuilder marketing, Blue Sky Marketing is excited to help Newmark Homes in growing their business.
Blue Sky Marketing
Blue Sky Marketing is about the endless possibilities that are available to any business owner with an effective marketing strategy implemented flawlessly to achieve their business objectives.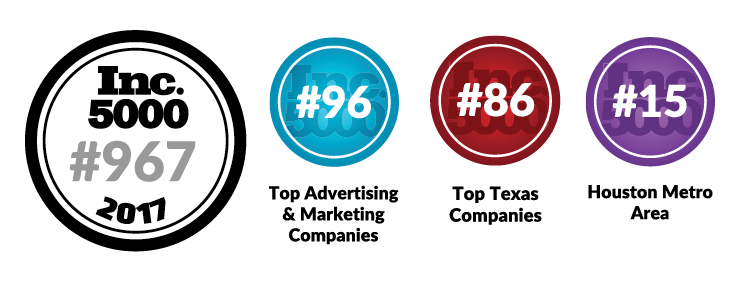 ---
Send a Message
---
Sign up for Updates
---
Recent Blog Posts